Posts for: February, 2018
By Paul G. Culver, DDS
February 15, 2018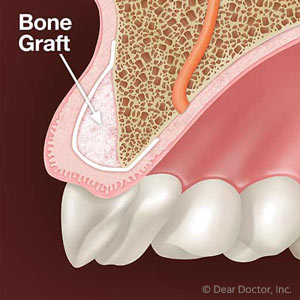 Due to financial circumstances, people often have a lost tooth restored with a removable partial denture, an effective appliance that restores function and a degree of aesthetic appearance. Later, though, they may want to improve both function and appearance with a dental implant.
If this describes you, you're making a great choice. Dental implants are the closest technology we have to a natural tooth. But there may be a roadblock to your implant, especially if a long time has passed since your tooth loss—there may not be enough bone at the site to place an implant.
The heart of an implant is a titanium metal post surgically imbedded in the jawbone. The titanium naturally attracts bone cells, which grow and adhere to it to form a solid hold that can support a porcelain crown or other restorations like bridges or dentures. But to achieve a natural appearance it's important that the implant is placed in the right location. To achieve that requires adequate bone.
But there may not be adequate bone if the tooth has been missing for a while. The forces generated when we chew travel through the teeth to the jawbone, which stimulates bone growth. If that stimulus is absent because of a missing tooth, new bone cells may not replace older ones at a healthy rate and the total bone volume begins to diminish. A denture can't compensate and, in fact, accelerates bone loss.
But there may be a solution: bone grafting. With this procedure we place a donor bone graft into the area of bone deficiency some time before implant surgery. The graft serves as a scaffold for new bone cells to grow upon. Hopefully, this will produce enough healthy bone to support an implant. If the bone deficiency is minor, we may place the implant and the bone graft at the same time.
If you have experienced bone loss, we must first determine the amount of bone at the missing tooth site and whether grafting is a viable option. Bone grafting postpones your implant, but the delay will be worth the wait if we're successful. With increased bone volume you'll be able to obtain a new tooth that's superior to your current restoration.
If you would like more information on dental implants, please contact us or schedule an appointment for a consultation.
By PAUL G. CULVER, DDS
February 05, 2018
Dental crowns from Brookfield, WI dentist, Dr. Paul Culver, restore damaged or misshapen teeth. That's a pretty straightforward statement,
isn't it? But, in reality, crowns save smiles by avoiding devastating tooth loss, preserving oral function, jaw bone integrity, personal appearance and self-confidence. How can a tooth-shaped cap do all that? Find out here how Dr. Culver creates and places these dental wonders for the benefit of the patients in his care.
Crowns strengthen and beautify
Say you have a cracked tooth. You worry that the resulting toothache spells extraction.
Well, that needn't be the case. Dr. Culver will examine that tooth, X-ray it and determine its viability. Some fractured teeth need root canal therapy to remove the interior pulp. Some do not, but many teeth can benefit from the protection offered by a dental crown in Brookfield.
If your tooth is sufficiently healthy, Dr. Culver will:
Anesthetize the area around it
Remove the damaged enamel and filling material
Shape it to receive a crown
Take oral impressions to send to the dental lab
At the dental lab, a skilled ceramist uses Dr. Culver's instructions and your oral impressions to custom-make your crown. These days, Dr. Culver usually chooses porcelain because of its lifelike beauty and strength. Other choices include porcelain fused to metal and gold. Selection depends on factors such as cost and location in the mouth.

While you wait for your new crown, you likely will wear a temporary restoration. When you return to Dr. Culver's office, he will remove it and bond the new crown in place. Because of modern color-matching techniques and manufacturing processes, dental crowns typically fit perfectly right away, and patients notice the superior look and feel of an all-porcelain crown.

Crown care and lifespan

When you brush and floss regularly and get your six-month cleanings and check-ups with Dr. Culver, your crown should last ten years or even more. The same goes for crowns used to restore dental implants and to support fixed bridgework, say researchers at the Cleveland Clinic.

Help your smile

Keep it bright, strong and functional by crowning a weak or misshapen tooth. For more information on these and other reliable restorations, contact Dr. Culver for a consultation at (262) 782-1655.